Please note
We ask you to come to the performances in advance, as having a ticket to Sochi Park does not guarantee a place at the show. We hope for your understanding.
Amazing artists
The main pride of the dolphinarium of Sochi Park is, of course, marine artists. The Black Sea bottlenose dolphins Sonya, Mary and Eric participate in the show program. Exciting jumps, synchronized swimming, naughty games, riding a coach on his back – these and other tricks delight viewers of all ages every time.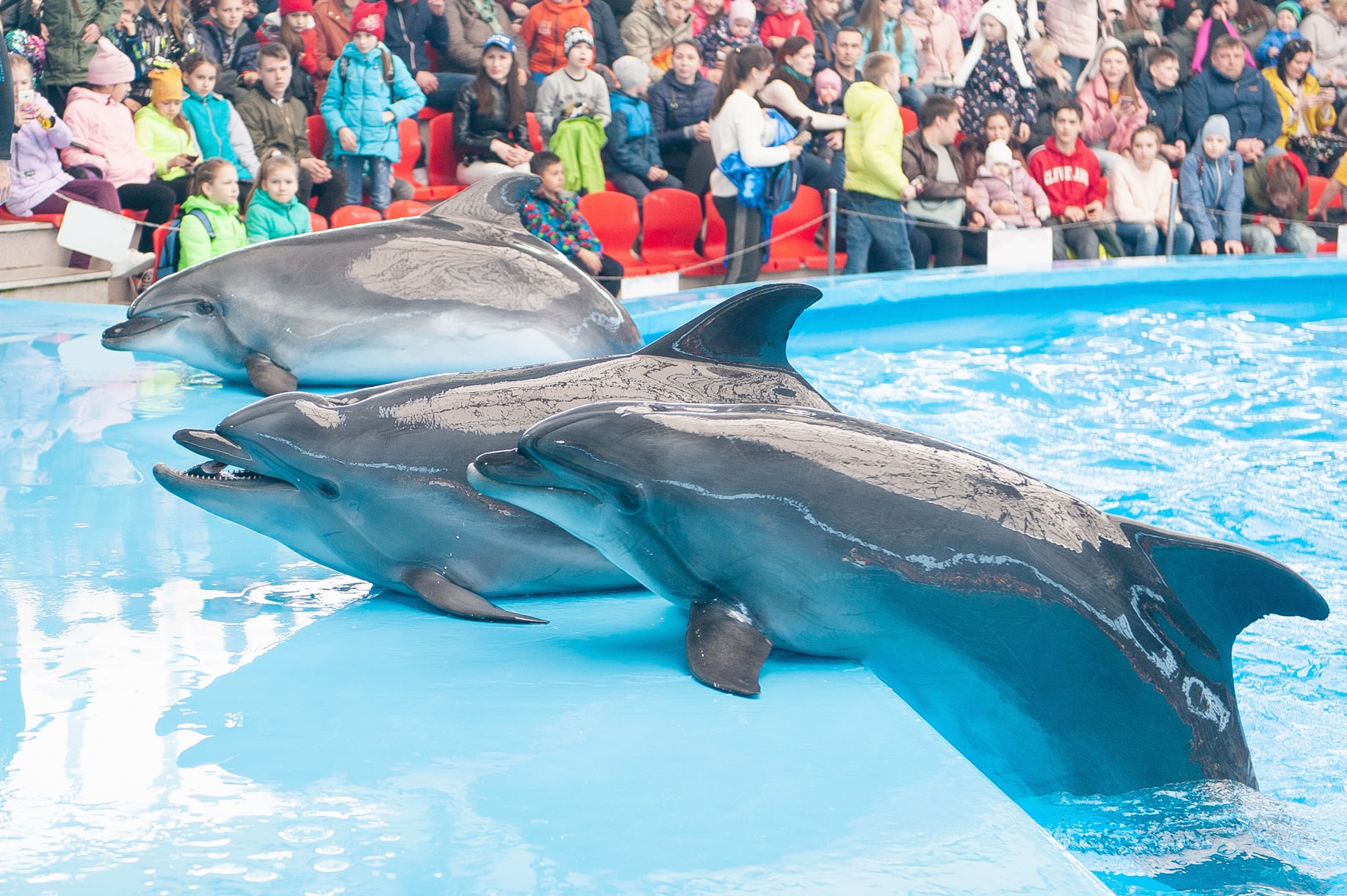 Black Sea bottlenose dolphins
Sonya: 32 years old, 280 kg, the most experienced artist
Mary: 15 years old, 220 kg
Eric: 13 years old, 230 kg, strong side – jumping ability.
Eureka: 1 year, 140 kg
Sochi Park Dolphinarium Trainers
Maxim Aleskerov and Ivan Simonov: professional dolphinarium trainers and great friends of marine artists
Dolphinarium of Sochi Park
The Dolphinarium of Sochi Park is one of the most modern in the country, where comfortable conditions are created for both visitors and marine life. The amphitheater accommodates up to 1123 spectators, the diameter of the pool bowl is 16 m, the depth is 5 m. The facade of the building is decorated with marine patterns reminiscent of the Russian Gzhel. The complex is open all year round.
A visit to the performance is included in the price of a single ticket to Sochi Park. The convenient schedule includes from two to four shows a day lasting about 30 minutes.
Dolphin nutrition
A busy schedule of performances requires proper nutrition. The artists have 5 types of fish in their daily diet. Herring, horse mackerel, red fish – a balanced menu has been developed taking into account the recommendations of the veterinary service.
Adult artists eat about 20 kg of fish every day.
Additional services of the dolphinarium of Sochi Park:
Photos with dolphins
Boating with a dolphin
Swimming with a dolphin for guests from 6 years old
Details by phone 8 800 100 33 39